Contact Information
Phone: 301-652-6760
Fax: 301-652-6763
Patients who are ill and need to be seen quickly should call before 1:00 p.m. We make every effort to see sick patients on the same day.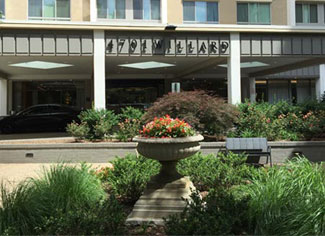 Address
4701 Willard Avenue
Suite 224
Chevy Chase, MD 20815
Office Hours
Monday: 8:00 a.m. - 6:00 p.m.
Tuesday: 8:00 a.m. - 4:30 p.m.
Wednesday: 8:00 a.m. - 8:00 p.m.
Thursday: 8:00 a.m. - 6:00 p.m.
Friday: 8:00 a.m. - 5:00 p.m.
Sunday: 10:00 a.m. - 6:00 p.m.
Transportation by Metro
If you come by Metro, use the Red Line to Friendship Heights. It is a short walk to our building. Also, our building provides a free shuttle every 30 minutes, on the hour and half-hour. The van says "4701 Willard" and departs from the front door of Whole Foods, 4420 Willard Avenue.
Parking
If you come by car, traffic is often heavy, so we encourage you to plan to arrive early. Guest parking is available for $4.00/hour. The garage is located on the River Road side of the lobby and is marked as "Guest Parking". Do not attempt to park in the resident garage.
Google's Driving Directions
To get directions to our office, enter your address or leave blank for directions from your current location:
Interactive Google Map
Driving Directions
From outside the beltway, take exit 39 onto River Road (MD-190) south towards Washington.
Go 4 miles and turn left onto Willard Avenue. We will be the first high rise on the left.
As you pass the loading dock, look for the entry that is marked "Guest Parking." The garage is located on the River Road side of the lobby. Parking is free with validation.
As you enter the building, walk across the lobby to the second bank of elevators. Our office will be directly in front of you when you get off at the second floor.
After Hours
The doctor shares his cellphone number with patients. Most calls are answered promptly. Occasionally there is a wait of up to one hour. If a call back is not received from Dr. Brodsky, you may reach our answering service by calling our office at: 301-652-6760. Infrequently, the doctor will sign out to another doctor. For life-threatening emergencies, always call 911.